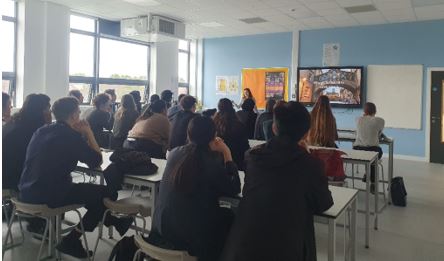 A busy week for Careers!
It's been a busy week for Careers this week, with visitors from two Universities and a Further Education College in school.
On Monday, Mrs Spencer's Year 12 Computer Science group were visited by Professor Chris Greenhalgh from the University of Nottingham. Chris gave the students an interesting talk about Computer Science as a career and as a research area, and then the students had the opportunity to contribute towards a research project on building a mental health app for young people. The students had some great questions for Chris, including asking about software development jobs and about quantum computing!
Then, on Wednesday, we were visited by Rebecca Smithson from St Edmund Hall, our linked Oxford University college. Rebecca first saw a group of Year 11 students and explored their aspirations for the future (which ranged from pop start to vet!), then went on to discuss university. During the session, the students learnt lots about university and Rebecca helped to dispel some of the myths and misconceptions they had around student finance and studying at Oxford or Cambridge. They also did an activity on A-Level choices, which will come in useful for those hoping to apply to Sixth Form.
Year 12 then joined for Seventh Session. Rebecca was able to teach the students lots of useful information about higher education, including the application process for Oxford. They were asking lots of insightful questions! We're hoping that this will be the start of a long and successful relationship with Oxford for our highest achieving students.
Finally, on Friday, the whole of Year 11 had their Collective Worship assembly delivered by a representative from Nottingham College. They talked through their Post-16 provision, including the range of A-Levels, T-Levels, vocational courses and apprenticeships they offer there.
We hope these activities were inspiring and allowed students to start thinking about their next steps